Skip to content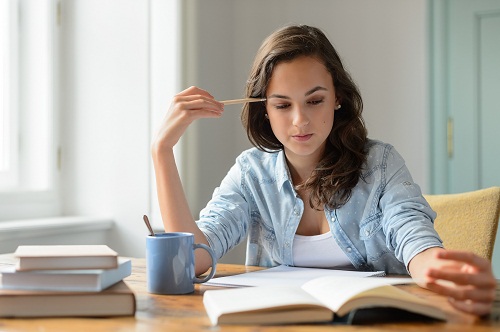 You may know that there are a number of different ways that people learn. Some prefer to listen to a lecture, while others would rather be involved in group discussions. Some students understand best when they are able to read the material. Others want to be more involved or hands-on in their pursuit of education. You may not know your precise learning style, but you probably have an idea of whether you are more of a solitary or a social person. If you identify more with the idea of being alone, you are probably a solitary, or intrapersonal, learner. Knowing your preferred learning style and the study techniques that work best for that style can help you to become a more successful and satisfied student. Read on to learn more about this preference and some study tips solitary learners.
About Solitary Learners
As someone who leans toward the solitary style, you are probably quite independent with a preference for having a great deal of quiet time for private introspection. You enjoy taking the opportunity to reflect on a topic and to analyze various aspects of it. This reflection likely applies to yourself, as well as outside situations and information. Solitary people tend to be quite aware of themselves and their inner workings. You may keep a diary or journal as a method of collecting your thoughts. Alone time means a great deal to you. If you have a problem, you retreat to a quiet space to reflect upon it by yourself, rather than hash it out with others. You are probably a planner, someone who likes to set goals and follow a map. It's probably upsetting to you if you are feeling unsure about something in your life or the direction in which you should go.
Careers for Solitary Learners
Solitary learners tend to pursue certain careers. While this is not always the case, those with an intrapersonal style may be best suited for professions such as an author or researcher. Both of these are careers that thrive on the collection of and reflection on ideas. There are numerous jobs in the allied health field that may appeal to more solitary folks. Medical billers, coders and transcriptionists are all positions that work primarily behind the scenes to obtain information and input it into computer systems, then sending it along to the appropriate recipients like insurance companies, medical providers, laboratories and patients. Frequently, these types of professionals can even work from home. There are countless other kinds of careers that work well for those who enjoy a more introverted lifestyle such as archivists, court reporters and security guards.

Study Strategies
There are lots of ways you can personalize your approach to studying in order to suit your solitary tendencies. First, it makes sense that you'll probably want to set up a nice, quiet place to serve as your basecamp. Being able to retreat to this secluded space on a regular basis will help to put you in the right frame of mind for focusing on your academic work. It will become routine, and your mind will soon adapt to entering "study mode" when you are in your study space. You'll benefit from this time away from the hectic pace of daily life in order to focus, reflect and analyze the material in front of you. Journalism is a tactic that often works well for intrapersonal learners. If you enjoy writing, you may benefit from taking time to scribble down your thoughts regarding the topic you're currently learning. This method will make the information more relatable to your personal life and knowledge of the world. When we can relate to a topic, we are better able to to understand and remember it.
Solitary learners tend to be organized individuals who enjoy planning, making lists and sticking to an agenda. Such personality traits can be used to your advantage when studying. At the beginning of each study session, take time to write down your goals and set deadlines for completing them. For example, you can determine how many pages or what portion of a chapter you'd like to complete, write down the ways in which you intend to review the material such as with flashcards or outlines and set a deadline for when you'll finish the session. This kind of planning may help to motivate you and to increase your productivity.
These are just a few suggestions of study tips for solitary learners. You can incorporate them into your own preferred method in order to come up with a system that is uniquely successful for you.
Get in touch with a Brighton College representative to learn more about the kinds of careers that may appeal to your learning style. You may also call us at (602) 212-0501